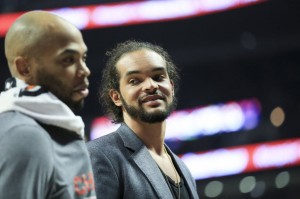 The true madness of this year's NBA free agent class — the first group to cash in on the bloated TV contract that will goose the salary cap from $70 million to $94 million from last year to this year — won't come from superstars like Kevin Durant or LeBron James.
Insomuch as anyone deserves to make tens of millions of dollars a year to play a game, the very best of the best do.
The real ridiculousness will be in the overpaid middle class. When this rising tide lifts all boats, they will be there starting Friday — ready to upgrade to yachts.
Among the most notable players in this mix: Joakim Noah. Wolves fans for a while thought Noah — the 31-year-old former Bulls big man coming off an injury-marred season in which he averaged just 4.3 points — might be a good fit to rejoin former coach Tom Thibodeau in Minnesota.
But if a report from the Washington Post is accurate, you can forget that — and gladly. The Post reports Noah is "almost certainly" going to sign with the Knicks once free agency officially begins Friday, at a price tag of $18 million per season.
This is not a misprint: $18 million per season.
If that's the going rate for a guy like Noah this year, the Wolves are best off waiting this thing out. As this piece suggests, Minnesota is still likely to trade Ricky Rubio — and after the free agent rush leaves some teams broke and others desperate, dealing him will likely be the smartest and most cost-effective way to upgrade the roster.
But good for the Knicks. They're gearing up for a pretty nice run at the 2011 NBA title.