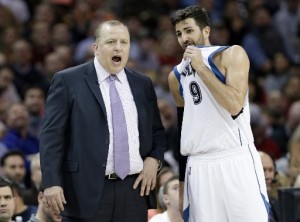 Two reports, both coming from the same New York writer, are enough to at least revisit the Timberwolves' point guard situation heading into the summer.
The first, from ESPN's Ian Begley (who covers the Knicks), says former Bulls guard Derrick Rose could be a free agent target of the Timberwolves.
The second, also from Begley, indicates that there are some members of the Knicks organization who still might be interested in trying to engineer a trade for Ricky Rubio.
These items have been repackaged plenty of other places, but Begley's reporting seems to be the only fresh indication of either of those things being a possibility (as has happened in the past with Timberwolves rumors). Since he covers the Knicks, we could logically assume both reports were generated from New York sources, not Minnesota sources. We don't know that for sure, and that's not to say the reports aren't credible, but it can help shape how we think about them.
It's also helpful to remember that Rubio and Rose were linked in trade rumors at the NBA deadline in the middle of last season. And in case you missed it, the esteemed Jonny K. reported a couple weeks ago that Rubio has changed agents and is now represented by Jeff Schwartz (the agent who represented Kevin Love when he was traded a few years back).
As it stands, here are what appear to be the Wolves' point guard options going into 2017-18:
1) Do nothing. Keep Rubio, whose post-deadline stretch of play included improved shooting and offensive aggressiveness. See if another year in Tom Thibodeau's system, combined with the maturation of players around him, proves to be a winning combination. Keep second-year point guard Kris Dunn coming off the bench and sometimes playing in tandem with Rubio or Tyus Jones.
This seems to be the safest thing and probably the smartest thing. But teams don't always do the safest or smartest thing.
2) Aggressively pursue a Rubio trade this offseason. Thibodeau has seemed to be heading toward this conclusion since he took over as coach and basketball boss. Dunn is his hand-picked point guard in waiting. Rubio himself has grown weary of trade rumors and losing in Minnesota. He could very well be interested in moving on as well (even if it's not smart to read too much into his switch to Schwartz as his agent).
From there, the Wolves could either give the keys to Dunn as the starter and Jones as a backup or — and here's where the Rose rumors make at least a tiny bit of sense — sign a bridge point guard as a starter. Maybe Rose, 28, could be interested in a short-term deal to show he's healthy and productive before trying for one more huge contract in a year or two.
This would be a bigger gamble, of course. Even when Rubio wasn't shooting well or often last season, the Wolves' offense was far more efficient with him on the floor than when Dunn played. Rose's best days were with Thibodeau in Chicago, but that was many years and injuries ago.
There is still time to sort all of this out. But with or without those two Begley reports, I wouldn't consider the Wolves' point guard situation for next season to be settled at this point.